Mariblock Weekly
🟠 Africa gets its first crypto card issuer
Plus: 🇿🇦 | Visa partners with VALR to issue cards in South Africa 🇿🇦 | Blockchain offers Africa opportunities for environmental, social, and governance development – Standard Bank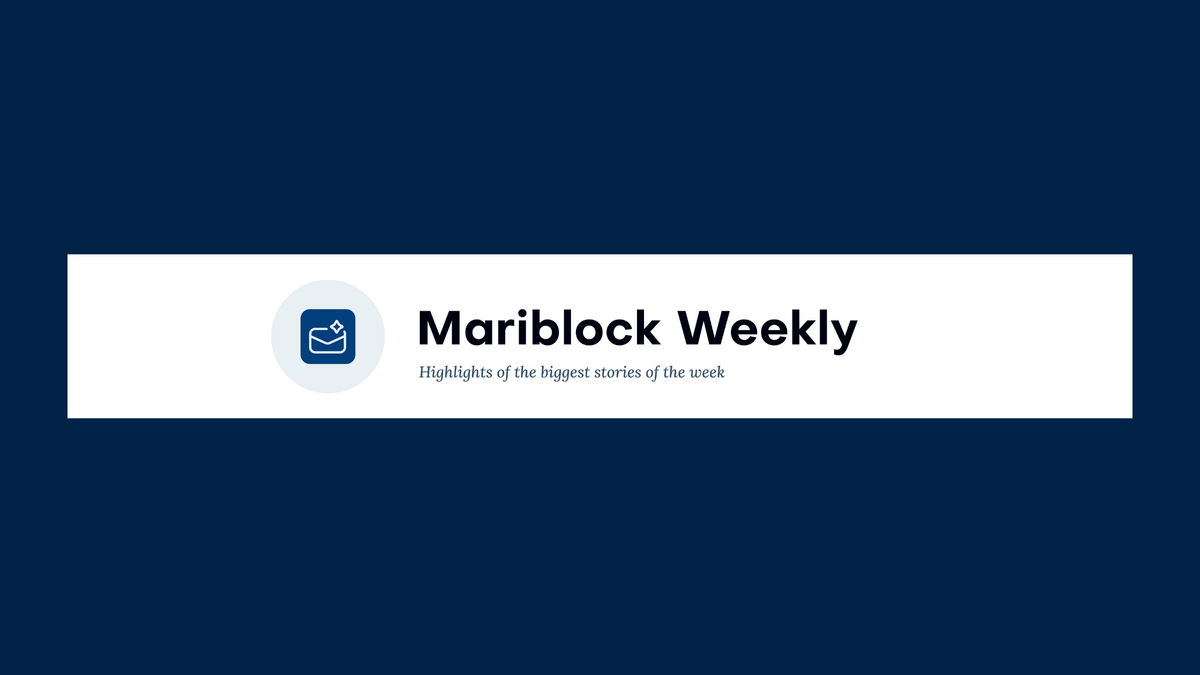 Ogechi here from Mariblock. I'm here with last week's biggest stories from the African blockchain and digital assets scene.

The big news is that Africa now has its own crypto card issuer thanks to the partnership between Visa and South Africa-based VALR.
---
Stay up-to-date with the latest blockchain and digital asset developments in Africa
---
Visa partners with VALR to issue cards in South Africa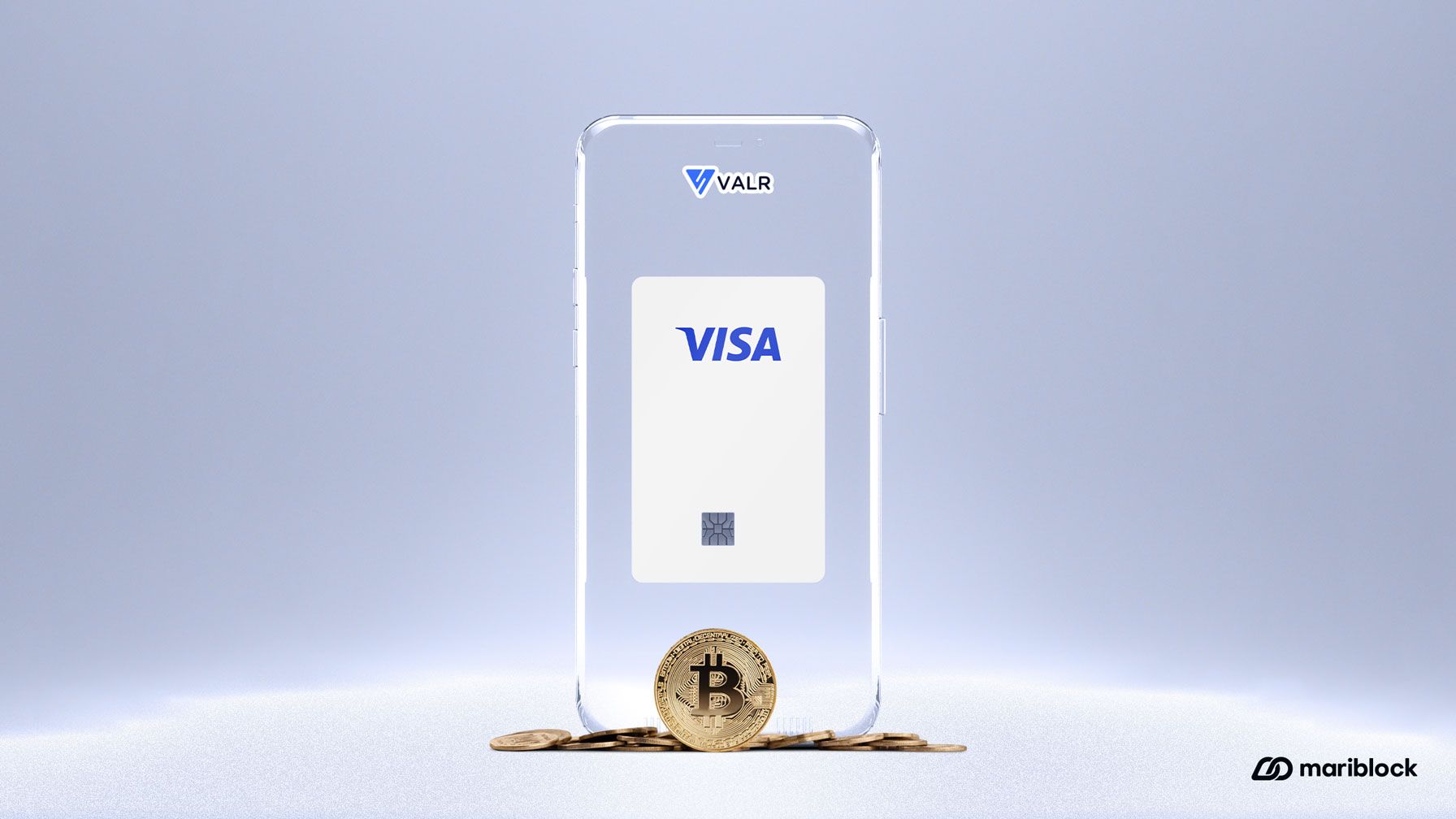 Topline: Global digital payments giant Visa recently partnered with South African cryptocurrency company VALR to expand the use of crypto payments within and beyond the country. (Details)
What they're saying: Mariblock reached out to VALR and Visa for comments. VALR said the partnership would allow it to issue cards and develop soon-to-be-announced digital payment solutions.
Visa did not respond at the time of writing.
Zoom out: Visa has previously partnered with over 50 cryptocurrency exchanges, including Binance and the now-defunct FTX.
Following regulatory controversies, Visa pulled the plug on its partnership with Binance in August 2023.
The partnership between Visa and Binance allowed users to transact in local fiat currencies, utilizing their cryptocurrency holdings from the exchange.
It is unknown whether Valr and Visa's partnership will offer the same services to South Africans as other crypto-card partnerships.
---
Key insights from BoG's eCedi hackathon session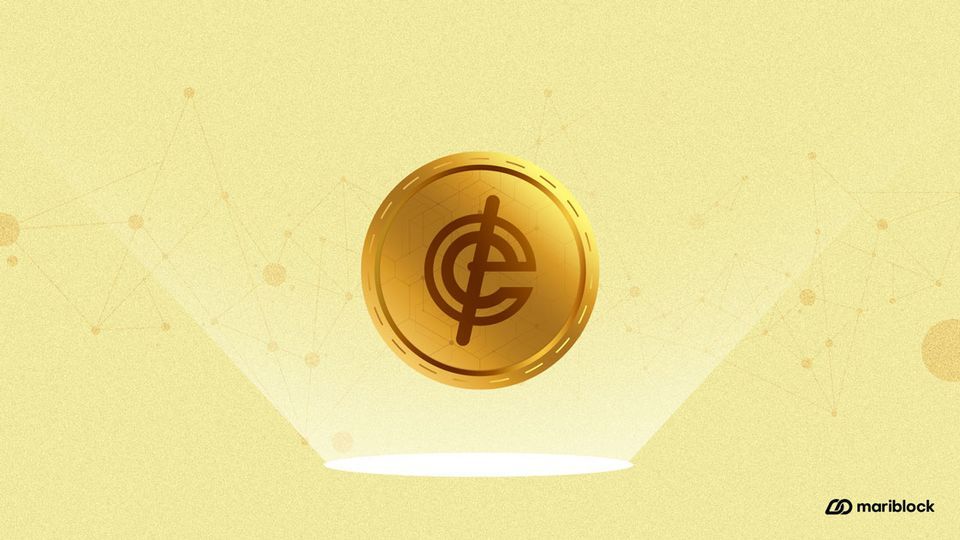 Topline: In our last newsletter, we reported on the Bank of Ghana's (BoG) partnership with banking infrastructure provider EMTECH Solutions to launch a 12-week hackathon on its CBDC, the eCedi. (Details)
Last week, the BoG and EMTECH held an information session to provide more details about the hackathon. Here are a few takeaways from the session:
The eCedi is built on Hedera Hashgraph: Last year, a representative of the BoG said the eCedi would not be built on blockchain technology but on an unnamed fabric.
BoG has now confirmed that the eCedi is developed on the Hedera Hashgraph network.
Hedera is a decentralized and open-source proof-of-stake (PoS) distributed ledger technology described as an alternative to blockchains.
Hedera supports any language that compiles to the Ethereum mainnet, including Solidity and Vyper.
The eCedi hackathon will last until Dec. 15: The eCedi hackathon started accepting registrations on Oct. 6. The program will span 12 weeks, ending with an awards ceremony for the hackathon winners on Dec. 15.
Proposed products to be built around nine eCedi use cases: The Bank of Ghana announced that while anyone could participate in the hackathon individually or in groups, solutions would only be welcomed in nine specific categories.
The categories include consumer-to-business transactions, government payments and disbursements, agriculture and trade, data privacy, inbound remittance and combating illicit transactions.
The eCedi is token-based: The BoG further clarified that the eCedi is token-based, unlike the account-based model employed by other CBDCs such as the eNaira.
This means that eCedi is in the form of tokens that can be stored locally on a phone or a card and not in accounts held by the central bank or designated intermediaries.
The BoG mints eCedi and distributes it to third parties, such as banks and merchants, which in turn distribute the CBDC to consumers. The bank added that eCedi wallets are also designed to be fully available offline.
---
Mariblock Insights: Fixing chargebacks in Nigeria with blockchain-powered payments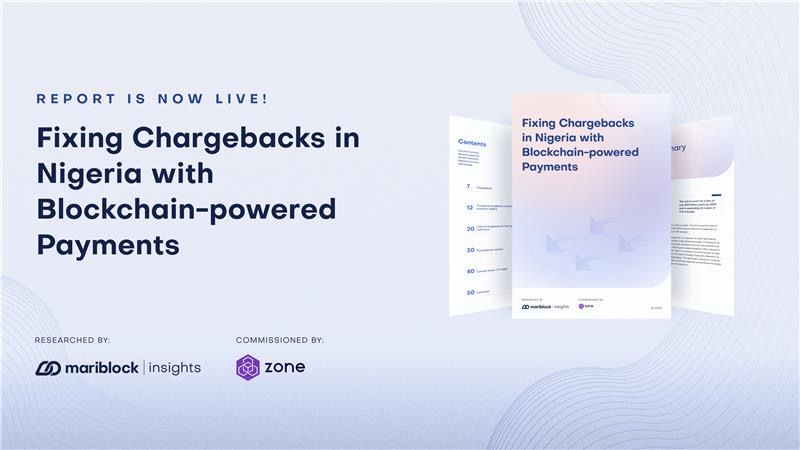 Topline: Technology has modernized financial transactions and revolutionized payment methods, simplifying and enhancing convenience for consumers. However, this progress has also facilitated fraudulent activities, including damaging chargeback frauds, affecting both online and local vendors.
In our inaugural report, we explore this pressing concern in depth. We dissect the intricacies of chargebacks in Nigeria and shed light on blockchain technology's transformative potential.
This report was commissioned by the Nigerian blockchain company Zone Network. However, the work was independently researched and produced by Mariblock Insights.
Click here to download the report.
---
Culture hash: Is Africa lagging on crypto regulation?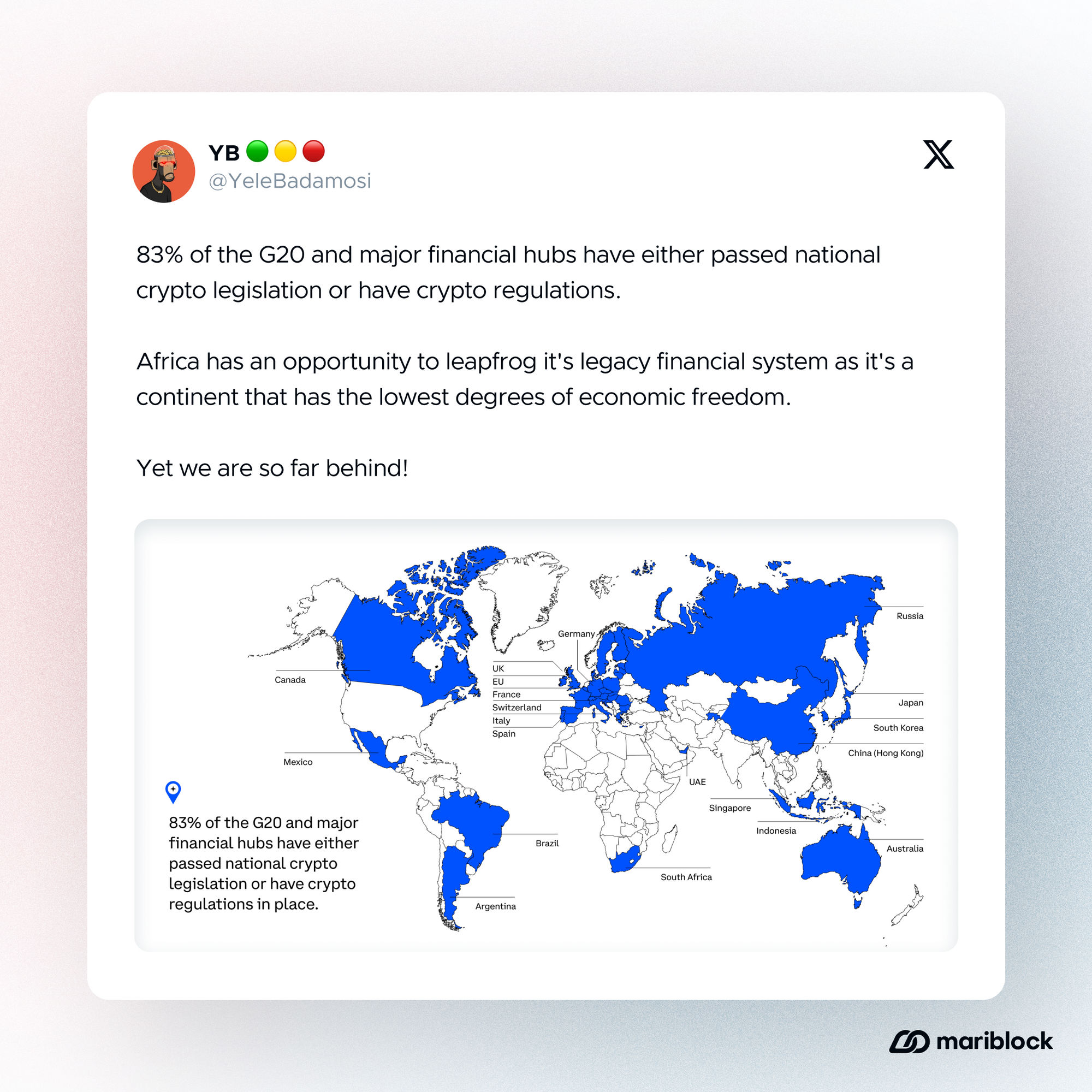 💭 Oluwaseun's thought cloud: It's common knowledge that African countries lag behind their global peers regarding crypto legislation.
But I always wonder if they live in a bubble, unaware of what's happening in the world around them.
It's striking that Argentina, with similar economic fortunes to many African countries, has a national law to regulate crypto.
Take action: As I wrote in a past Mariblock Weekly newsletter, those of us working full-time have to take responsibility for regulating the space via self-regulatory organizations (SROs)
Knowledge gaps are common reasons for the lack of regulatory activities on the continent. Regulators simply don't understand the technology enough to regulate it optimally.
Well, you — the builders — understand the technology. It would be best if you took responsibility for regulating it among yourselves.
Japan has one of the most robust crypto regulatory regimes globally, and SROs have played a significant role. In fact, at least two SROs are recognized by the country's top financial regulator.
P.S. The African part of the map is inaccurate. At least two other African countries — Botswana and Namibia — have passed national crypto legislations.
---
Catch up
🇿🇦 Bitcoin Ekasi: A South African non-profit's vision to create a Bitcoin circular economy. (Mariblock)
🇳🇬 Akowe's blockchain solution set to transform Africa's educational sector. (Mariblock)
🇨🇫 Fraudulent CAR crypto investment company vanishes with customer funds: Reports. (Mariblock)
🇿🇦 South Africa on track to overtake Nigeria as Africa's largest economy in 2024 — IMF. (Mariblock)
🇳🇬 Nigeria in talks for $1.5 billion World Bank loan — Finance minister. (Mariblock)
🌍 IF Insights: Analysing the 'Silent Revolution' in the African crypto sector (International Finance)
🌍 How African Students Became Victims of FTX's Collapse (Coindesk)
🇳🇬 Dragonfly Capital backed web3 app VIBRA shuts down in Nigeria (Techcabal)
🌏 Cryptocurrencies under renewed focus after Hamas attacks (Financial Times)
---
I'd love to hear from you ✍🏾
What are your thoughts about this newsletter?
What are we doing well, and what should we improve on?
Hit the reply button, and let's talk — even if it's a reaction to any of the stories covered here.
I look forward to hearing from you.
---
That's it for this week.
See you next week.
Cheers,
Ogechi.