Bitcoin
Bitcoin Ekasi: A South African non-profit's vision to create a Bitcoin circular economy
Bitcoin Ekasi hopes to create a circular economy where South Africans can get paid, purchase items and pay for services in bitcoin without first converting it to fiat.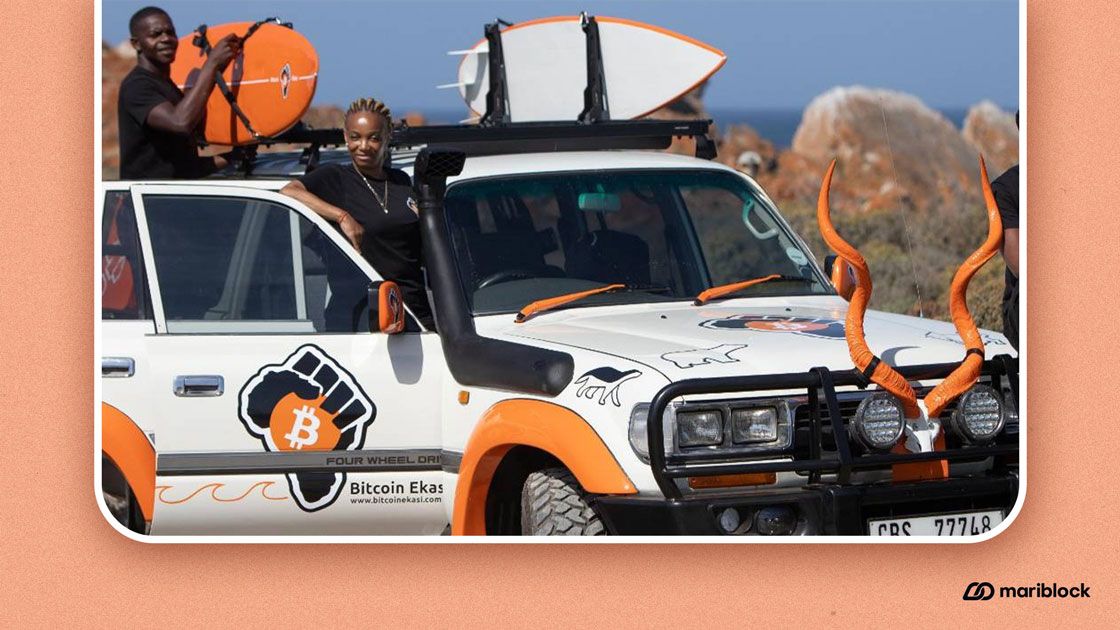 Cryptocurrencies are digital currencies without physical form but domiciled on a blockchain — digital, decentralized and distributed ledgers. Often, there has been debate on how these digital currencies offer tangible value to the real world.
In South Africa, a non-profit organization — Bitcoin Ekasi — is using the cryptocurrency bitcoin as a tool to educate disadvantaged kids. Last month, the Human Rights Foundation (HRF) awarded Bitcoin Ekasi a $25,000 grant to further its work.
Driving the news
The Human Rights Foundation, a non-profit devoted to fighting human rights violations through purpose-built campaigns, announced on September 27 that Bitcoin Ekasi was one of 15 beneficiaries of the latest round of grants from its Bitcoin Development Fund.
The foundation granted Bitcoin Ekasi $25,000 to help further its goal to create a circular Bitcoin economy in the country's townships. Vivier told Mariblock that the grant would focus on employing and remunerating Bitcoin teachers.
"The HRF's grant will enable us to employ additional educators (qualified teachers) who will focus specifically on teaching the basics of Bitcoin at a dedicated financial literacy center," he said.
Of note: HRF launched the Bitcoin Development Fund in 2020 to support builders working to make Bitcoin more decentralized and, as such, a financial tool for human rights activists, civil society organizations and journalists.
Earlier this year, Mariblock reported that the HRF awarded $455,000 to 12 individuals and projects, five of whom were African. In February, the fund awarded $475,000 in grants to ten organizations in Africa and Southeast Asia.
About Bitcoin Ekasi
Bitcoin Ekasi was founded in 2021 as an extension of The Surfer Kids, a non-profit that seeks to engage children and teenagers in Mossel Bay and teach them surfing as a form of empowerment.
Cofounder of The Surfer Kids, Hermann Vivier, told Mariblock that Bitcoin's permissionless and decentralized nature makes it a perfect tool to onboard marginalized and financially excluded youths into financial literacy. Vivier said:
"Bitcoin is open and permissionless [and] because it is permissionless, [bitcoin] provides access to anyone."
About a year ago, Bitcoin Ekasi launched an education center in Mossel Bay, a harbor town in South Africa's Western Cape province. The center aimed to provide financial literacy to the town's younger residents and teach them to save in bitcoin.
However, Vivier pointed out that a lack of literacy can hinder crypto–driven financial inclusion programs. According to him, this is Bitcoin Ekasi's biggest challenge.
"We want to educate people on finances and personal financial responsibility, but we are dealing with people who (more often than not) cannot read and write properly, despite attending government schools."
Bitcoin Ekasi hopes to create a circular economy where South Africans can get paid, purchase items and pay for services in bitcoin without first converting it to fiat. The organization pays its staff in bitcoin, Vivier told Mariblock.
To further this aim, Bitcoin Ekasi onboards shops in the townships so that its workers who are paid exclusively in bitcoin can have places to spend their earnings.
"Everyone who works for The Surfer Kids & Bitcoin Ekasi earns 100% of their salaries in bitcoin. At the same time, Bitcoin Ekasi does onboarding of shops in the township so that spaza shops accept bitcoin.

This means that coaches, teachers, etc., employed by The Surfer Kids & Bitcoin Ekasi can spend their bitcoin salaries at the spaza shops without needing to convert to fiat," Vivier said.
The 'crypto dream'
When asked about the 'crypto dream' in South African townships where several young people see cryptocurrencies as a 'get-rich-quick' scheme and make desperate choices to be able to trade crypto and make huge profits, Vivier replied that while these scenarios are genuine in these townships, bitcoin is different from 'crypto.' He gave a bitcoin vs crypto narrative, suggesting that the former is better than other cryptocurrencies.
"Those are not allegations; it is the truth. Crypto is perceived as a get-rich-quick scheme. But Bitcoin is not crypto ... We touch on the topic of crypto only to make people aware that it exists and to highlight the important differences between bitcoin and crypto.

The most important being the fact that nothing in crypto qualifies itself as money, simply because none of it is widely decentralized enough."