Mariblock Weekly
🟠 Nigeria received nearly $60 billion in crypto value in a year
Plus: 🇰🇪 | Crypto scam alert: Argo Blockchain does not have Nigerian and Kenyan entities 🇲🇺 | Republic of Mauritius launches blockchain-based eVerify service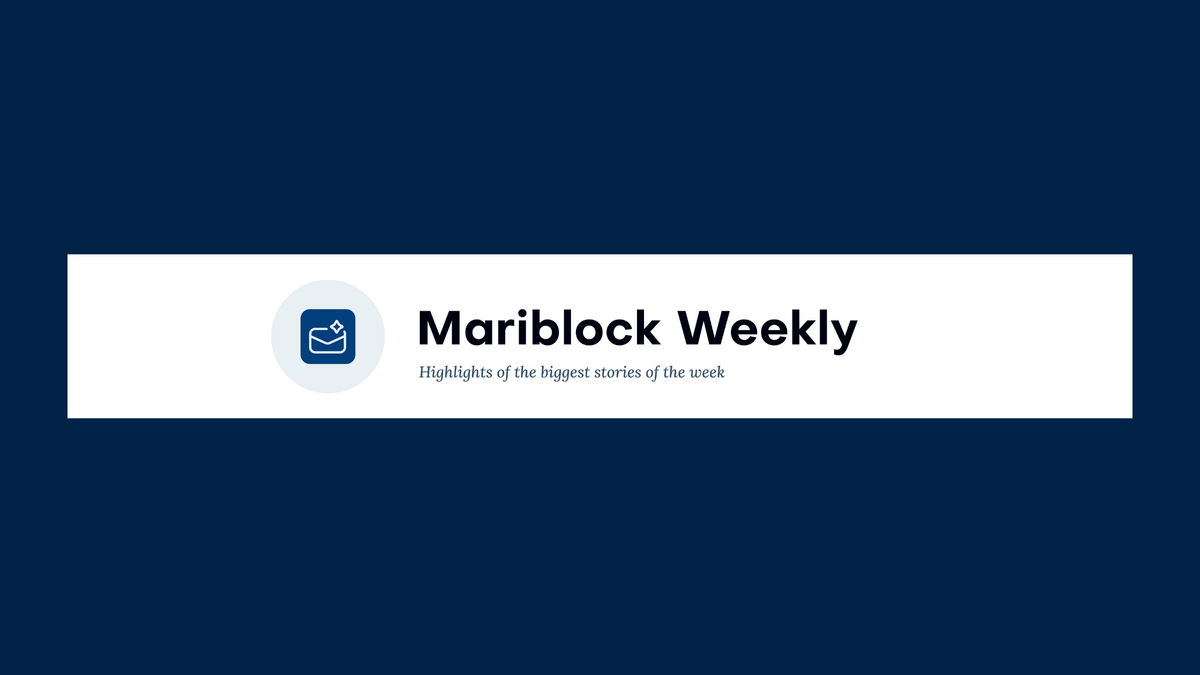 Hi there -

This is Ogechi from Mariblock. As usual, I am delighted to bring you the highlights of last week's biggest stories in the African blockchain and digital assets scene.

Last week, Chainalysis released the Sub-Saharan Africa section of its global 2023 cryptocurrency report. It found that although the region's crypto economy remains the smallest globally, digital assets are becoming more popular in SSA.

Interestingly, the report also found that Nigeria is responsible for the largest share of crypto value received by Sub-Saharan Africa. More on this below.
---
Interested in staying updated on the latest blockchain and digital asset developments in Africa? Get this newsletter delivered to your inbox every week.
Subscribe now
---
Nigeria received nearly $60 billion in crypto value in a year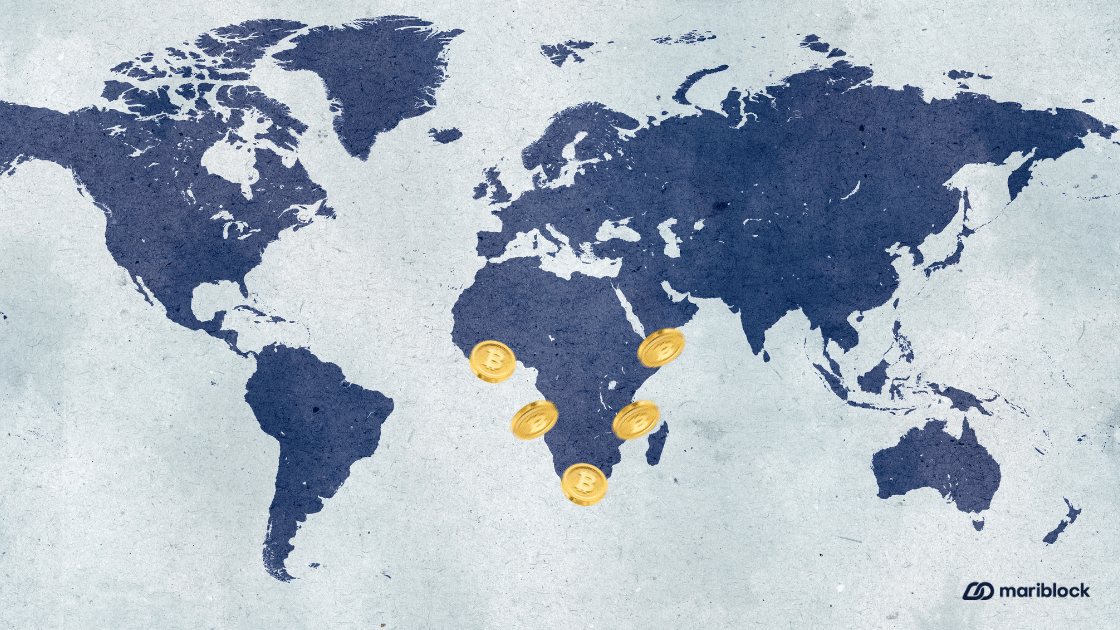 Topline: Chainalysis has released the Sub-Saharan Africa (SSA) section of its Global 2023 Cryptocurrency Report. Although the primary data indicates that SSA's crypto economy remains the smallest in the world, as it has been for some time, a closer look shows that digital assets are becoming more popular in the region. (Details)
Driving the numbers: Sub-Saharan Africa received just 2.3% of all crypto value globally between July 2022 and June 2023. That amounts to $117.1 billion.
By comparison, the region received $100.6 billion between July 2021 and June 2022. That represented 2% of global crypto activities.
Crypto value received by country: Per the report, Nigeria is by far the most prominent crypto market in the region, receiving nearly $60 billion in crypto value during the same period.
South Africa is distant second, receiving just over $20 billion between July 2022 and June 2023.
While Kenya came in third, the big surprise was Mauritius being fourth place, just ahead of Ghana.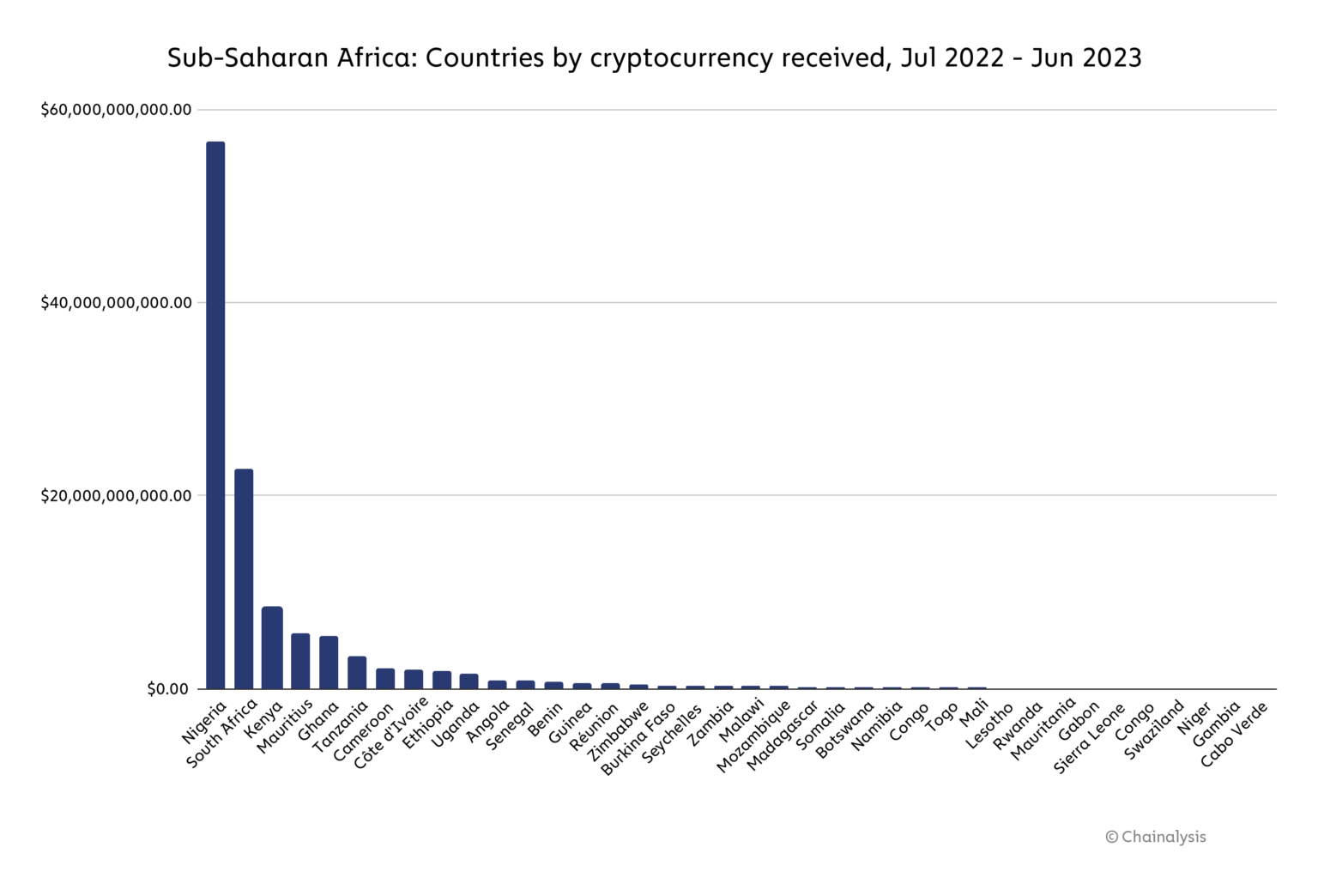 Notably, Nigeria​'s crypto economy grew by 9% over the past year despite broader market struggles.
Interestingly, some Nigerians have greeted this report with doubt.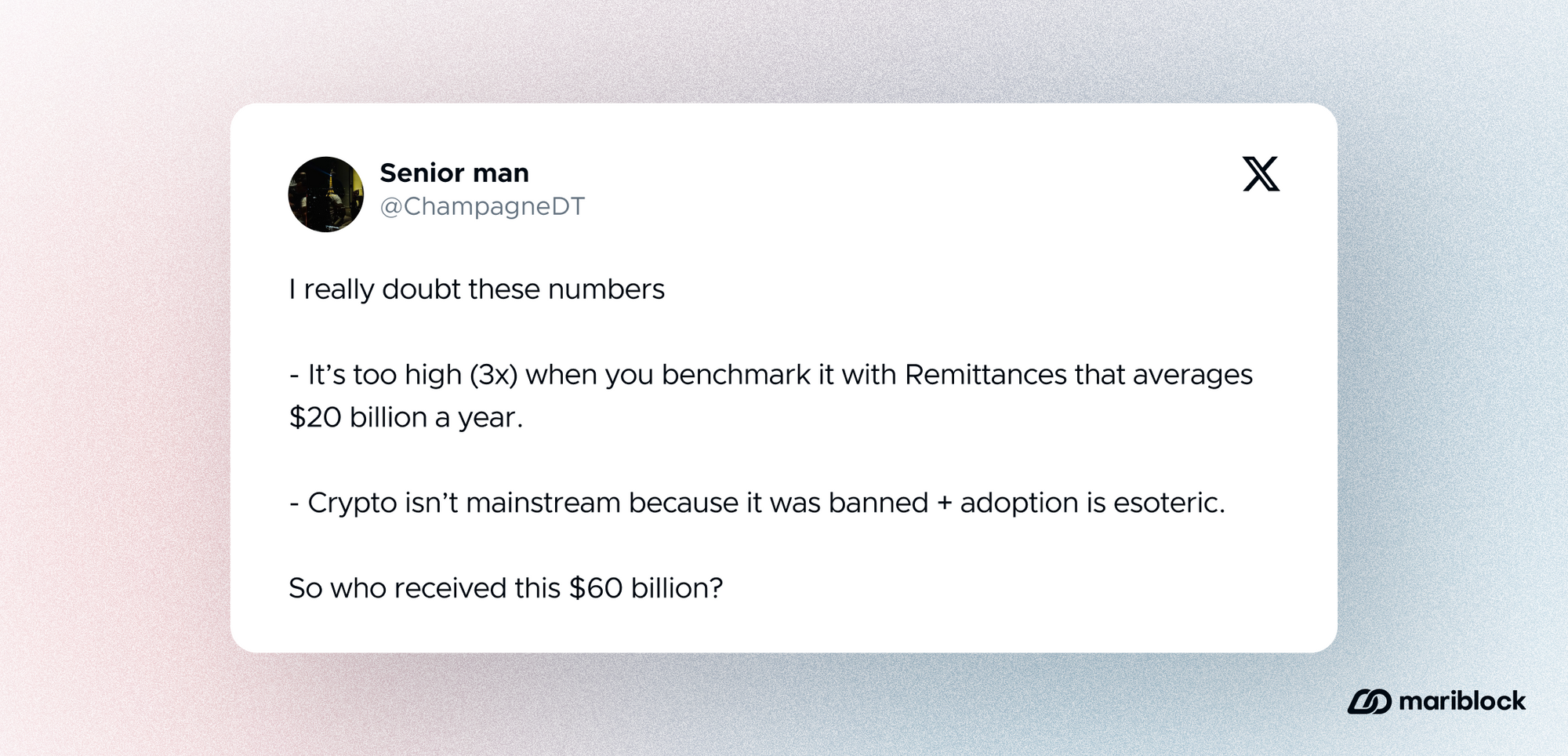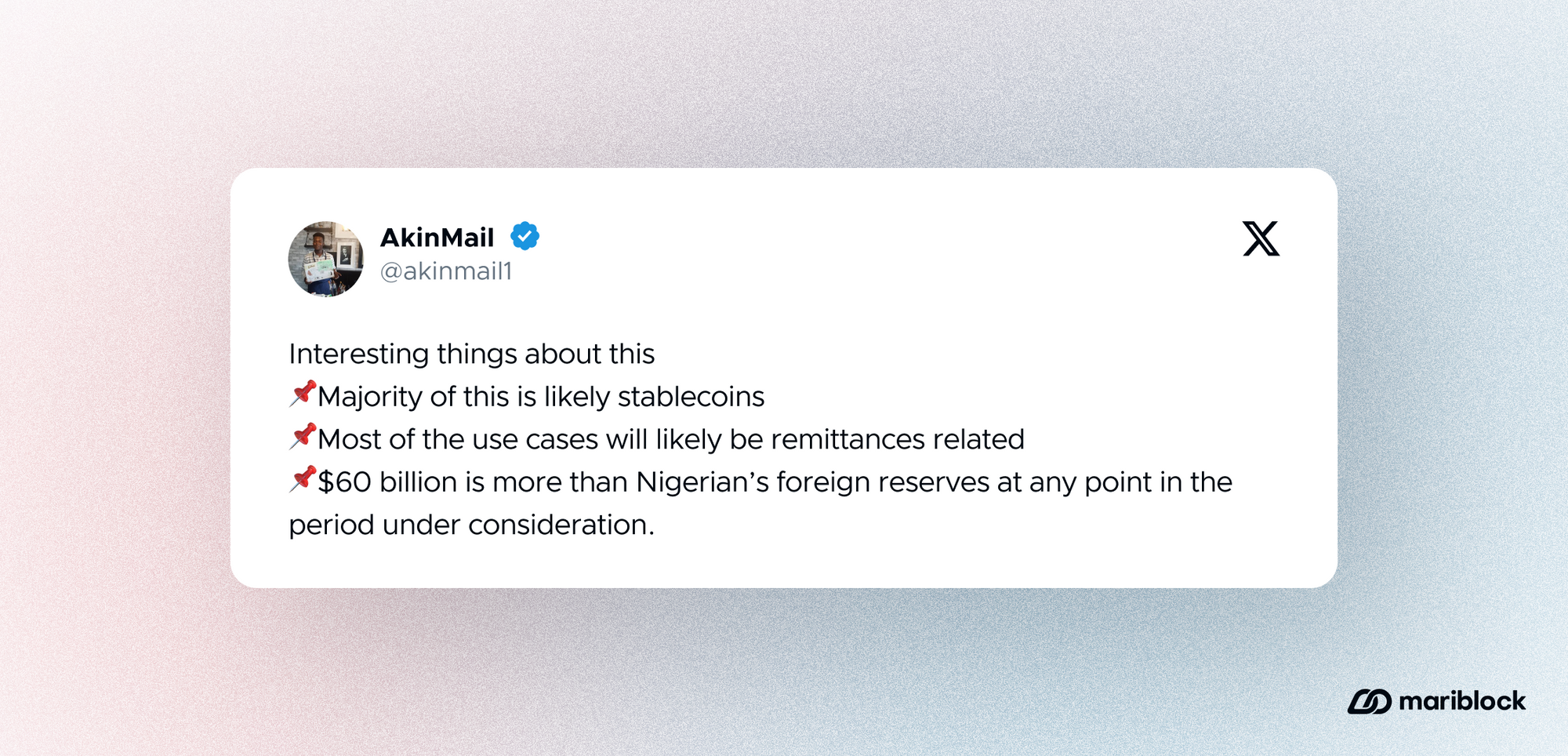 True to the first point of @Akinmail1, a significant portion of the trading volume consists of stablecoins.
Chainalysis data shows that Sub-Saharan Africa has experienced a "proportionally large percentage of monthly stablecoin value" relative to other asset types.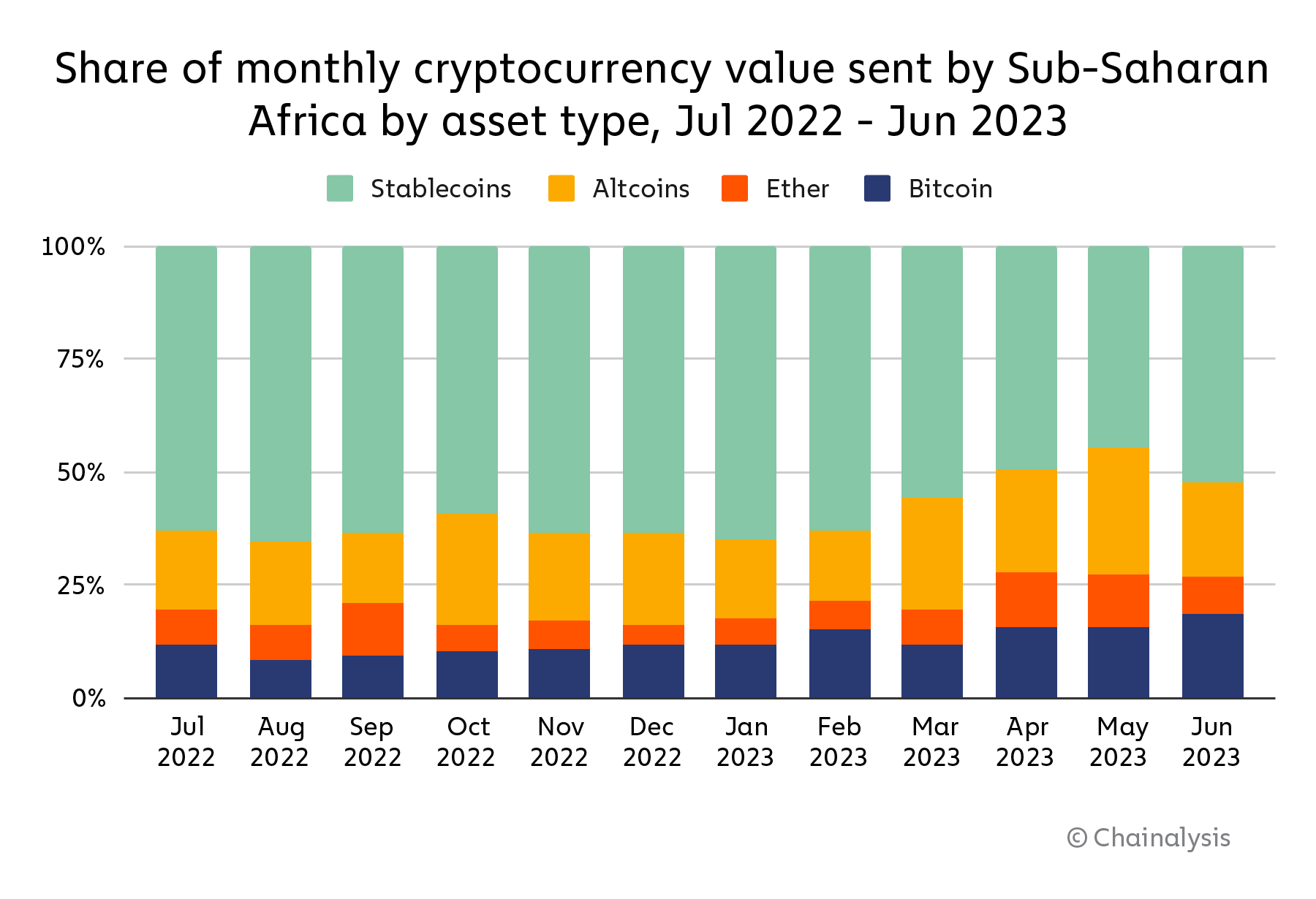 ---
Crypto scam alert: Argo Blockchain does not have Nigerian and Kenyan entities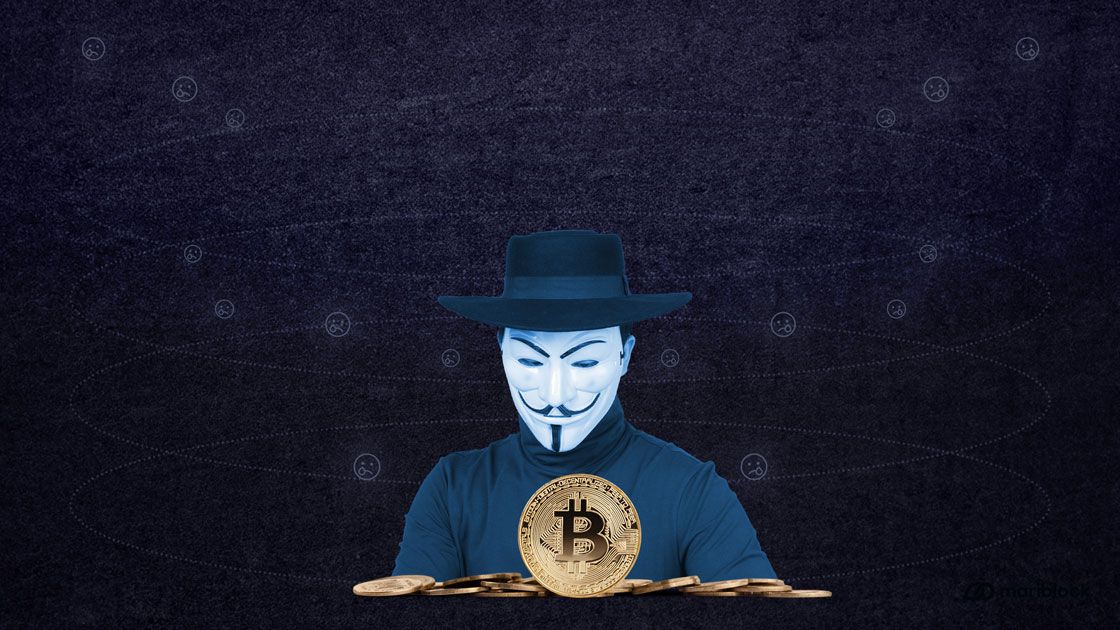 Topline: Argo Coin and Argo Kenya have been taking money from unsuspecting Nigerians and Kenyans to invest in bitcoin mining equipment and earn outrageous ROIs. (Details)
Both companies claim to be African subsidiaries of Argo Blockchain, a bitcoin mining company headquartered in London, United Kingdom.
Mariblock contacted Argo Blockchain to inquire about the existence of any subsidiaries in Nigeria or Kenya and whether it had granted them licenses to solicit investments through private accounts.
The company replied: "We are aware that some malicious actors have been impersonating Argo employees on WhatsApp and attempting to scam investors through fraudulent websites and mobile applications. It appears these scams are happening primarily in Nigeria and Kenya.

"To be clear, Argo Blockchain does NOT have any consumer-facing applications as part of our business. Furthermore, we will NEVER contact individuals via WhatsApp or ask them to send money to us."
Argo Coin: The Nigerian entity, overseen by administrators who manage a Facebook page and a WhatsApp group, claims to be owned by "U.K. personnel" who handed the company over to Nigerian operators.
In a chat with Mariblock, one admin claimed Argo Coin is linked to the UK-based Argo Blockchain.
However, Argo Coin operates a different website from the real Argo Blockchain. It accepts payments into personal accounts, supposedly for renting bitcoin mining equipment.
The victims' opinions: A victim who spoke to Mariblock anonymously said since joining last July, he has funneled 78,000 naira into the scheme and has not made any return.
Another victim took to social media to label the company as a scam. According to her, the company increased her withdrawal limit and banned her account, denying her access to her money.
Other users expressed trust in the platform and were convinced it was legitimate, with no intention of perpetrating a scam.
Argo Blockchain Kenya: While there are no apparent connections between Argo's fraudulent Nigerian and Kenyan self-acclaimed entities, there are similarities in their operations.
The entity boldly claims it is affiliated with Argo Blockchain, headquartered in the U.K.
Argo Kenya asks its subscribers to invest between 1,000 and 60,000 Kenyan shillings to "rent" Bitcoin mining equipment and earn huge ROIs. According to an admin whom Mariblock spoke to, a Ksh 10,000 investment would yield Ksh 24,000 in 42 days.
Flashback: Some weeks ago, Mariblock revealed a bitcoin mining scam ring in Kenya — BTCM Kenya — which collected several thousand Kenyan shillings from unsuspecting victims under the guise of investing in bitcoin mining equipment.
It promised close to 400% ROI within days and substantial referral bonuses. After a while, its operators disappeared with funds still stuck in it, leaving many in despair.
---
Republic of Mauritius launches blockchain-based eVerify service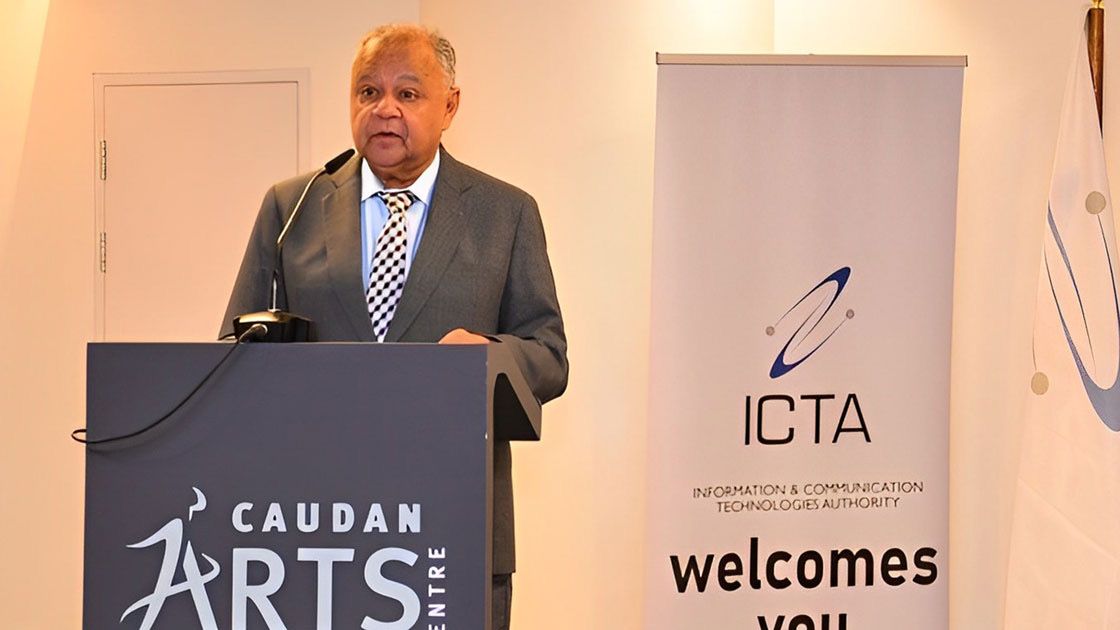 Topline: Mauritius has even more blockchain activities, which recently launched a blockchain-based document provenance service called eVerify service. (Details)
The project was launched at the 21st-anniversary celebrations of the Information and Communication Technologies Authority (ICTA).
The details: eVerify is a system that uses blockchain to verify and authenticate information or transactions electronically.
The Minister of Information Technology, Communication and Innovation, Darsanand Balgobin, said the eVerify service would deploy some of the characteristics of blockchain, such as its decentralized nature, immutability, transparency, and security, to establish trust and ensure data integrity.
He also highlighted that the eVerify services will find applications in various sectors, including education, healthcare, supply chain and legal and regulatory.
How it works: The ICTA's eVerify system is built on Open Attestation technology, an open-source initiative of Singapore's Government Technology Agency developed on the Ethereum blockchain. The system enables verification by cross-referencing blockchain hash values.
As per the ICTA's website, eVerify currently enables the public to verify the legitimacy of licenses and documents issued by the agency.
Of note: Most governments worldwide are averse to blockchain's decentralized nature, which has formed their cautious approach to embracing the technology.
Governments tend to avoid using public blockchain networks due to their diminished centralized control.
However, Mauritius' eVerify system breaks this mold by being constructed on a public blockchain.
Before now: Mauritius has been positioning itself in recent years as a technology hub.
In 2017, the country invited innovators to utilize its Regulatory Sandbox License, which permits tech firms in finance, healthcare, and communications to operate without a formal legal framework.
In addition, Mauritius also plans to launch its Central Bank Digital Currency (CBDC), the digital rupee, as part of steps towards embracing the future of finance.
---
Coming soon: Mariblock Roundtable
Topline: Mariblock's top priority is fostering impactful conversations that drive the advancement of the African blockchain and digital assets space.
We see stakeholder engagement as a significant part of that.
Mariblock Roundtable will bring builders, talents, investors, enthusiasts and regulators around the continent together to engage in discussions that move the needle for the industry.
This won't be a crypto/blockchain education series.
We're open to partnerships. Do reply to this email if you'd like to learn more.
---
Catch up
🇰🇪 Kenya's Interior Minister hints at possible cryptocurrency ban. (Mariblock)
🌎 Remitano crypto exchange hacked for $2.7 million, narrowly avoids a further $1.4 million tether loss. (Mariblock)
IMF and World Bank will proceed with annual meetings in Morocco in October. (Mariblock)
🇱🇾 Binance provides crypto aid to Libya flood victims amidst controversies over possible P.R. motives. (Mariblock)
🇰🇪 Kenya's Interior Minister claims the U.S. prevented the arrest of Worldcoin executives. (Mariblock)
🇬🇲 Gambia's dalasi retains its position as Africa's best-performing currency. (Mariblock)
🌍 Hashing It Out: What happens when crypto meets fintech in Africa? (Cointelegraph)
🇳🇬 Akowe wants to fix Africa's broken certificate system with blockchain (Techcrunch)
---
I'd love to hear from you ✍🏾
What are your thoughts about this newsletter?
What are we doing well, and what should we improve on?
Hit the reply button, and let's talk — even if it's a reaction to any of the stories covered here.
I look forward to hearing from you.
---
That's it for this week.
See you next week.
Cheers,
Ogechi.