Business
A new report says African blockchain firms raised $474 million in 2022, but the methodology is questionable
South Africa, Liberia and Kenya led Nigeria for total funding. MFS Africa, Valr, Jambo, Ejara all feature in the report.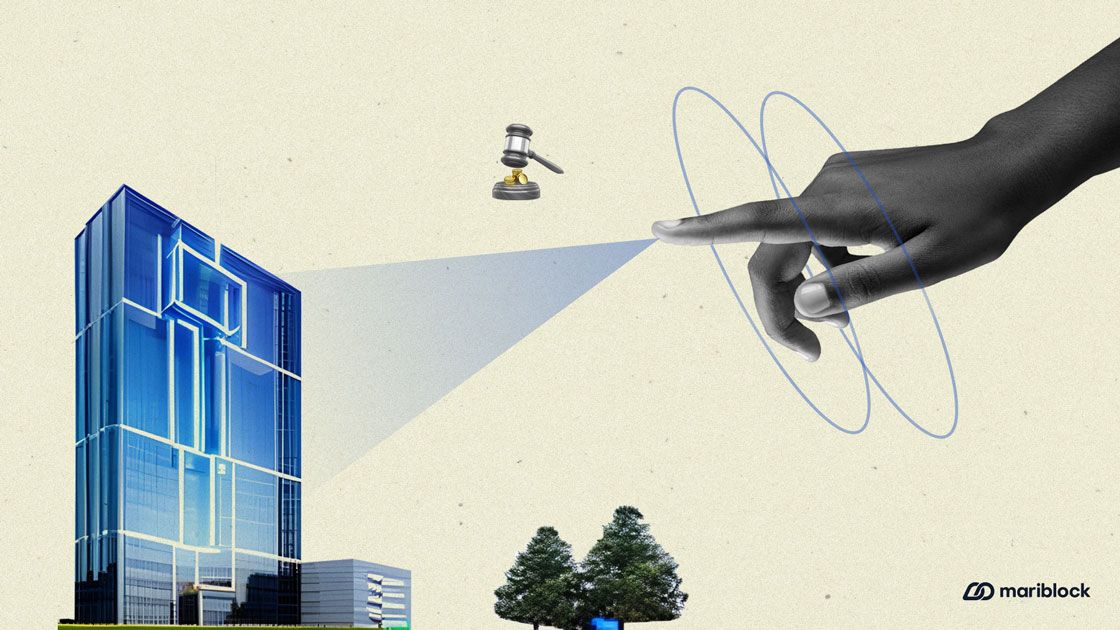 South Africa-based Standard Bank and CV VC, the investing arm of the Swiss-based venture builder CV Labs, have released the second edition of the Africa Blockchain Report. The report covers the continent's blockchain funding landscape, notable industry developments and regulatory landscape.
Overall investment facts
In 2022, African blockchain companies included in the report raised $474 million, representing a 429% year-over-year growth, which, the report says, is the highest of any region globally.
African blockchain businesses raised $551 million between January 2022 and March 2023 — across 33 deals.
The methodology
The study focuses on 28 African countries that have raised at least $100,000 in funding between January 2022 and March 2023.
Companies included in the report are headquartered in Africa, with blockchain or cryptocurrency as their primary business. (Some caveat on this below)
The report excludes publicly traded companies, consulting firms, media businesses, academia, and a few other categories.
It also excludes companies that raised debt funding (Kenya-based Pezesha did raise debt funding last year.) The report also excludes grants and coin offerings.
Notably, only companies with blockchain and crypto as their primary focus were considered. (caveat below)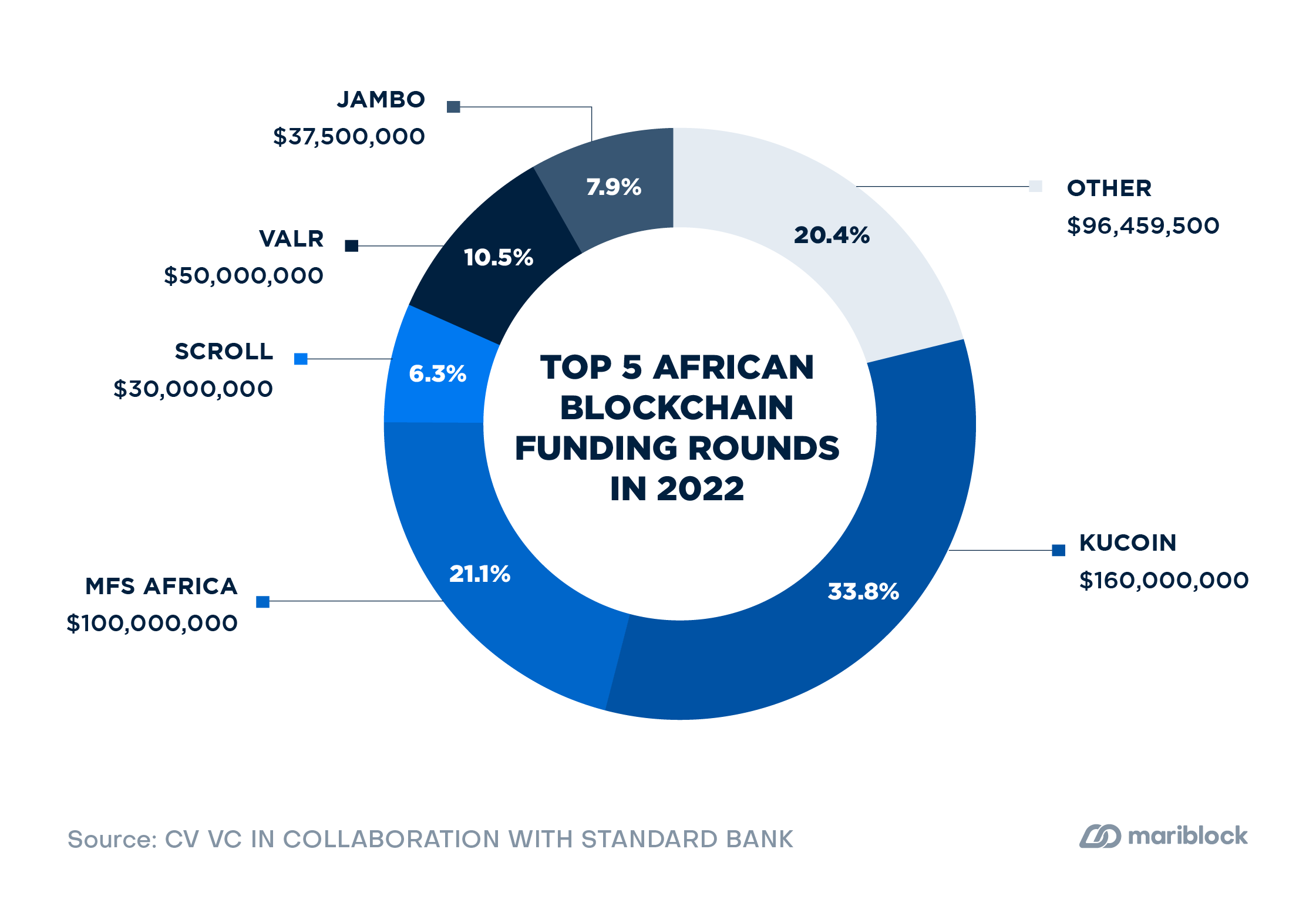 The caveat
As with most studies, CV VC's report should be contextualized.
Of note: The decision to consider all companies headquartered in Africa is potentially misleading.
Case in point:  The report classifies global cryptocurrency exchange KuCoin and the Ethereum scaling service Scroll.io as African companies merely because they're registered in Seychelles.
This lacks the context that KuCoin and Scroll became African companies because they found a regulatory haven in Seychelles. Neither of these companies is African-founded. They also do not earn most of their revenue from the continent.
Translation: Excluding funds raised by Seychelles-registered companies, the total funding figure for 2022 would be $265.96 million.
Additionally: By excluding companies whose primary business isn't crypto- or blockchain–related, the report misses out on the all-important category of companies building a crypto or blockchain layer on traditional models. These businesses usually have wide distribution networks that could help onboard people into the crypto world.
Of note: Rwanda-based fintech PayDay recently raised seed funding, which saw participation from the new Stellar Africa Fund I, managed by venture capital firm DFS Lab. This kind of investment supports or encourages integrating crypto solutions into traditional products.
Sub-industry funding facts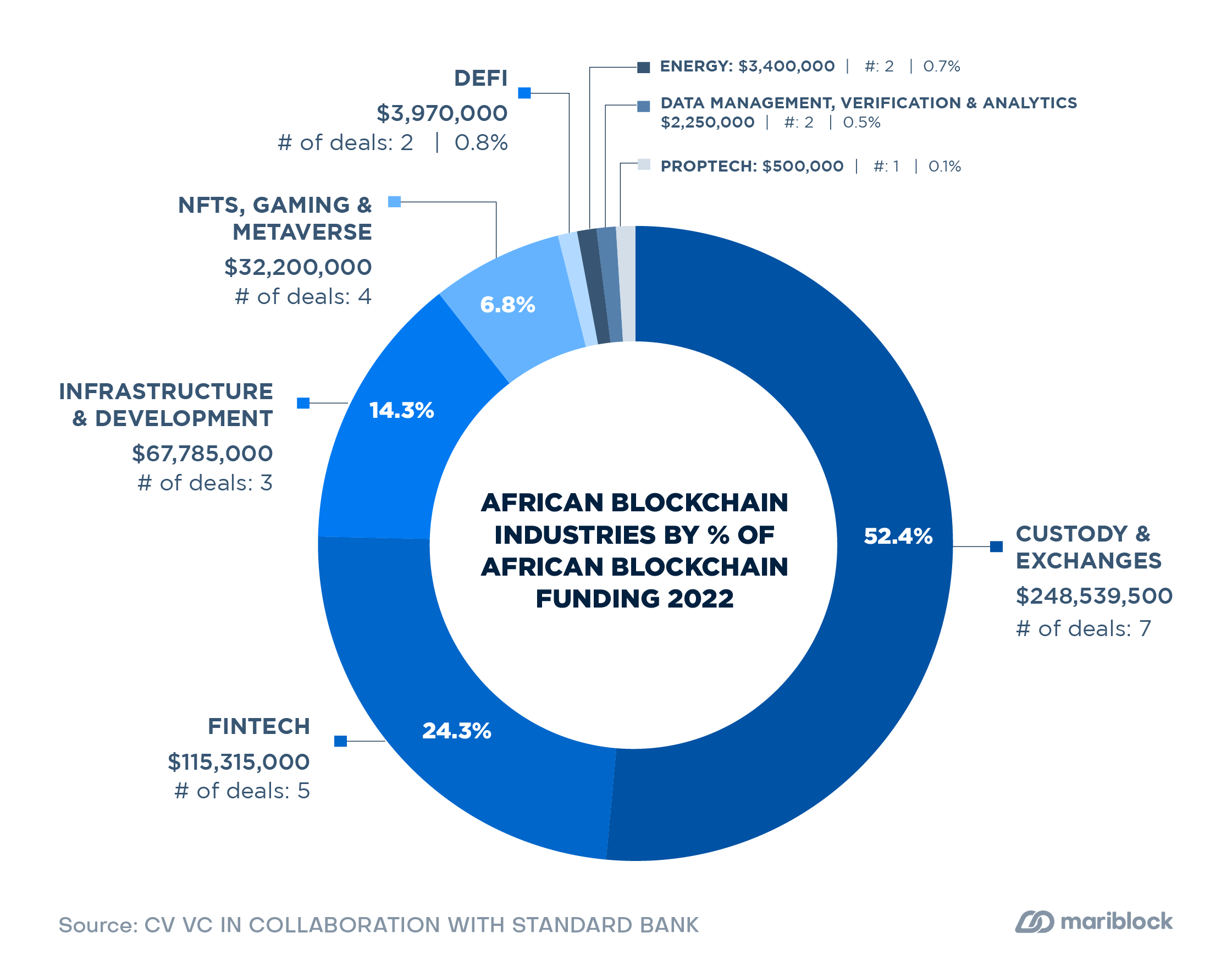 Cryptocurrency custody and exchange businesses were the highest-funded categories, receiving about 52% of the capital over the period considered.
Fintech followed with a 24% share of investments. Companies building blockchain and crypto infrastructure received 15% of the total investment.
Venture capital activities by country
Seychelles saw the highest deal flow in 2022, with businesses registered in the country raising $208.04 million across six deals. — or 43% of all investments.
South Africa received six funding deals totaling $176.65 million — or 37.3% of all investments.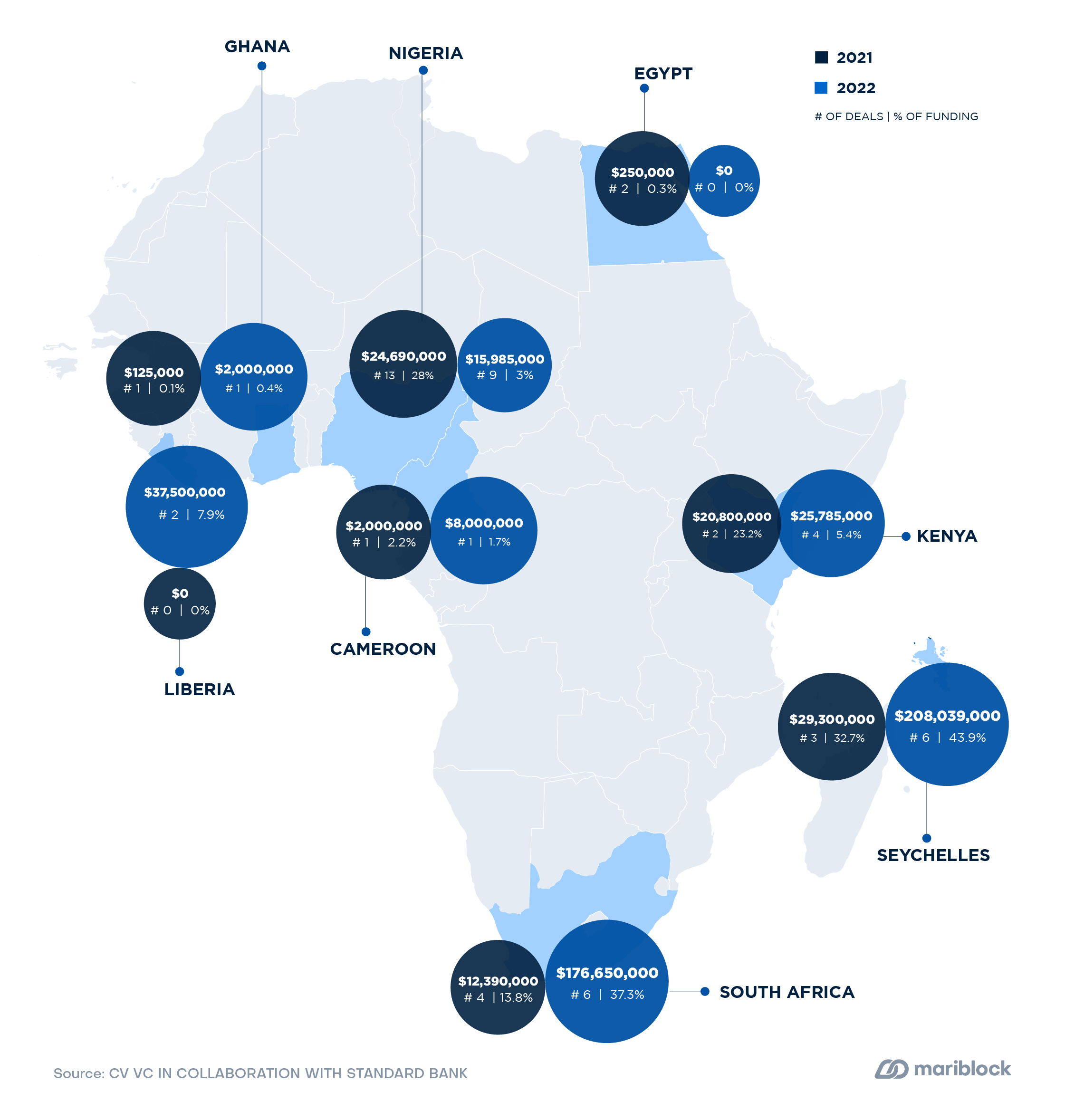 Of note: Liberia saw two deals totaling $37.5 million (7.9%), compared to a grand total of zero in 2021.
Kenya-based blockchain companies received $25.79 million (5.4% of all investments) across four deals.
With nine deals, Nigeria had the highest deal count in 2022. Those nine deals amounted to just $15.99 million — or 3.4% of the total investments.