Adoption
Morocco remains in top 20 for global crypto adoption despite ban — Chainalysis
Egypt, previously ranked as the fastest growing crypto economy worldwide, dropped out of the top 30, according to Chainalysis' Geography of Cryptocurrency report for the MENA region.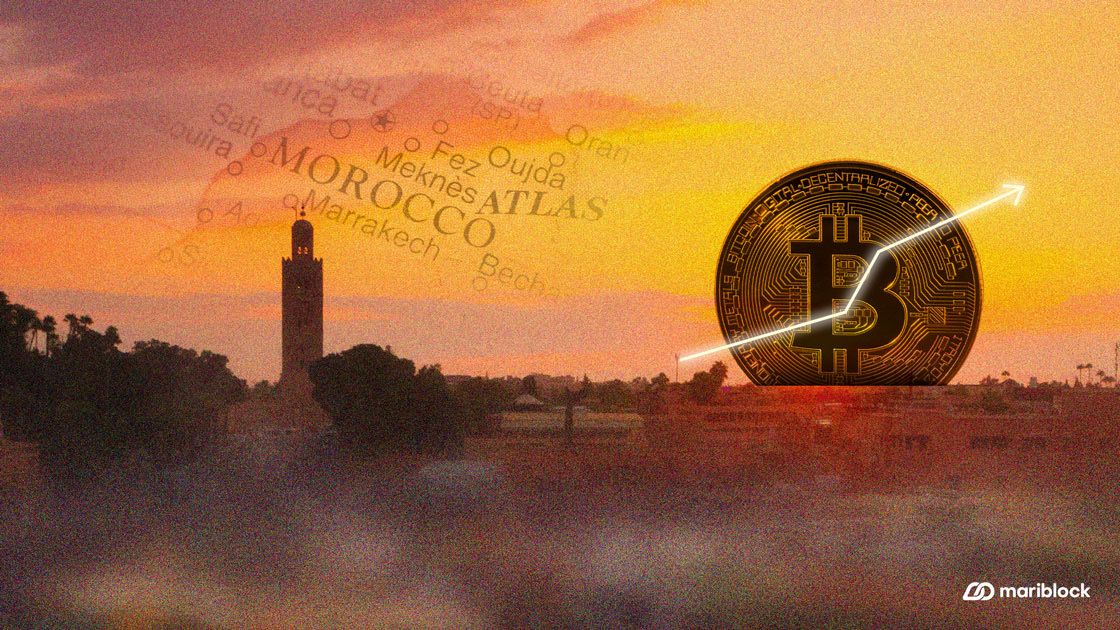 A report from the blockchain analytics firm, Chainalysis, highlights Morocco's enduring presence as one of the leading countries globally for cryptocurrency adoption. This is noteworthy, considering the country's cryptocurrency ban, unclear regulations, and challenging market conditions.
The details
Per Chainalysis' Geography of Cryptocurrency report for the Middle East and North Africa (MENA) region, Morocco ranked 20th worldwide for crypto adoption, albeit a downgrade from its previous rank of 14th.
"MENA is also home to three of the top 30 countries in this year's index: Turkey (12), Morocco (20), and Iran (28)," the report read.
In addition, the country received the highest crypto transaction value of MENA's African bloc — Algeria, Egypt, Libya, Morocco and Tunisia.
Egypt, which ranked 24th for global crypto adoption and posted the highest growth rate of any country in the MENA region in 2022, dropped out of the top 30.
Headlining the report
The MENA region was ranked as the sixth largest crypto economy, with an on-chain value of $389.8 billion, representing nearly 7.2% of global transaction volume.
Turkey received the highest crypto transactions value of approximately $170 billion.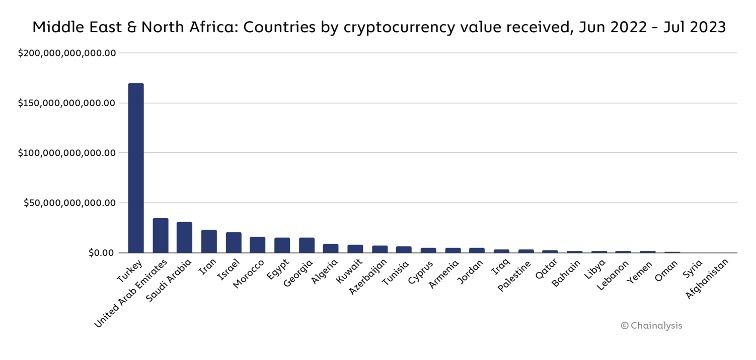 The spike was attributed to rising inflation, a devaluing currency — the Turkish Lira — and a young, tech-savvy population.
Saudi Arabia topped the rankings for the crypto economy with the highest year-on-year transaction volume growth with a 12% increase on the previous year.
Chainalysis attributed this growth to an increasing appetite from retail investors to diversify their portfolios and invest in the digital asset class, which drove higher crypto volumes.
Morocco's resilient crypto economy
Apart from maintaining its rank on the Chainalysis table, finance website Insider Monkey recently found that Morocco equally ranked 13th worldwide for bitcoin usage.
It also found that 4.9% of Morocco's population owned some form of crypto in 2022.
This is despite a ban on cryptocurrencies and digital assets that have been in place in the country since 2017.
In June 2022, Morocco's central bank — Bank Al-Maghrib — stirred up optimism for an upturn of the ban when it announced that it was working on a bill to regulate cryptocurrencies.
The bank's governor, Abdellatif Jouahri, announced late last year that a draft of the bill was ready, but the bill has not been passed yet.
Regulations are shaping up in MENA
Morocco is making progress toward cryptocurrency regulations, but the asset class remains prohibited in Libya, Tunisia, Egypt, and Algeria, with no immediate plans for future regulations in sight.
However, since countries in the region typically operate under similar laws and regulations, it remains to be seen if the UAE's favorable regulatory environment rubs off on the other African countries in the region.