Business
FTX 'erroneously' listed African crypto company BitPesa for bankruptcy
A representative of the company told Crypto Africa that FTX isn't a shareholder in BitPesa and its affiliated entities.
ℹ️
Update:

- (Nov. 12, 7:43 GMT): This story has been updated to include a new statement from FTX, clarifying that certain entities, including BTC Africa S.A., are not included in its bankruptcy proceedings.
Troubled cryptocurrency exchange FTX claimed to own about 14 entities affiliated with crypto payments company BitPesa, the company's bankruptcy filing shows. In claiming ownership of these companies, FTX inherently said BitPesa was filing for bankruptcy as well.
BitPesa, now operating as AZA Finance after rebranding in 2019, has refuted those claims in an email to Crypto Africa. AZA Finance (BitPesa) is a subsidiary of BTC Africa S.A.
ℹ️
For consistency, this story will refer to AZA Finance and related entities as BTC Africa.
A BTC Africa spokesperson said:
"BTC Africa and related entities are not part of the FTX bankruptcy. In its disorganized haste, FTX erroneously listed our entities in their bankruptcy filing. Our entities are not impacted by the FTX bankruptcy in any way. BTC Africa's entities and businesses remain independent and healthy. FTX is not a shareholder in these entities."
FTX has also issued a statement that excludes BTC Africa from its bankruptcy proceedings.
The statement reads:
"The FTX Group does not include companies that the FTX Group does not own or control, including Bitvo Inc. and BTC Africa S.A. and their respective subsidiaries."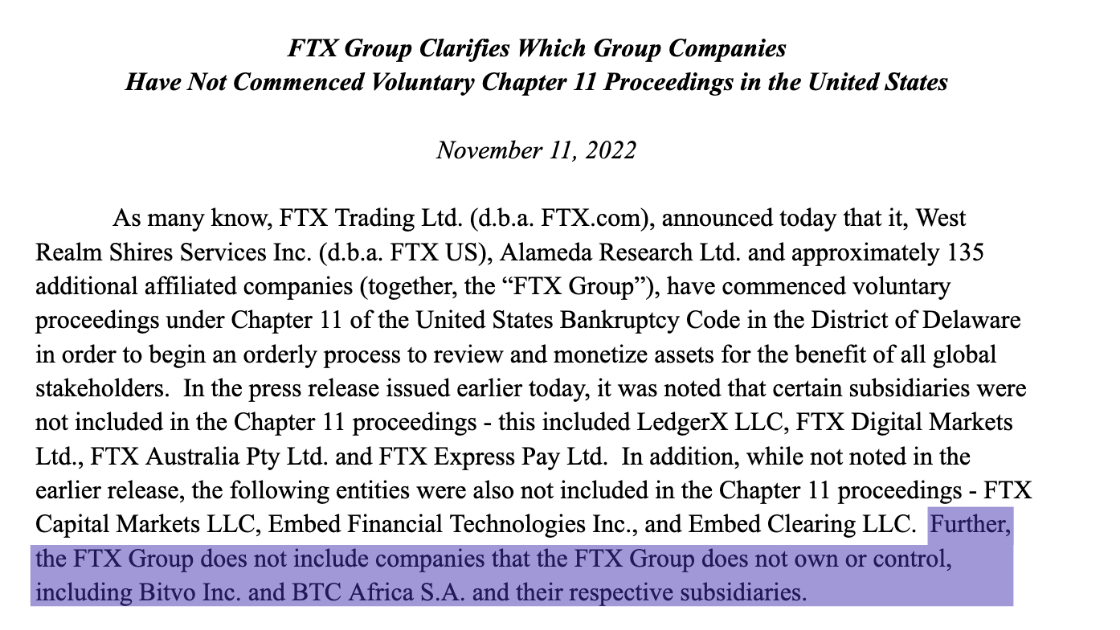 Of note
Bitvo Inc., the other company FTX excluded from its bankruptcy proceedings, issued a statement about a pending transaction to be acquired by the bankrupt crypto exchange.
Bitvo said:
Noting that Bitvo Inc. ("Bitvo") previously entered into an agreement to be acquired by FTX Trading Ltd. ("FTX") and given the series of events that unfolded this week with respect to FTX, management would like to provide an update that the transaction has not closed and Bitvo remains independent from the FTX group of companies with no material exposure to them.
It's unclear if there were similar conversations between FTX and BTC Africa.
Neither BTC Africa nor FTX immediately returned Crypto Africa's request for comments on the existence of such talks.
AZA CEO Elizabeth Rossiello has also taken to her Twitter account to deny FTX's ownership of AZA and its affiliates.
"[FTX] was a client of [AZA] full stop. ... They were not shareholders, and we are not affected by their bankruptcy or situation,"  Rossiello wrote. "They were very small clients as they had just recently launched."
FTX's bankruptcy filing claims that FTX Europe A.G wholly owns BTC Africa S.A.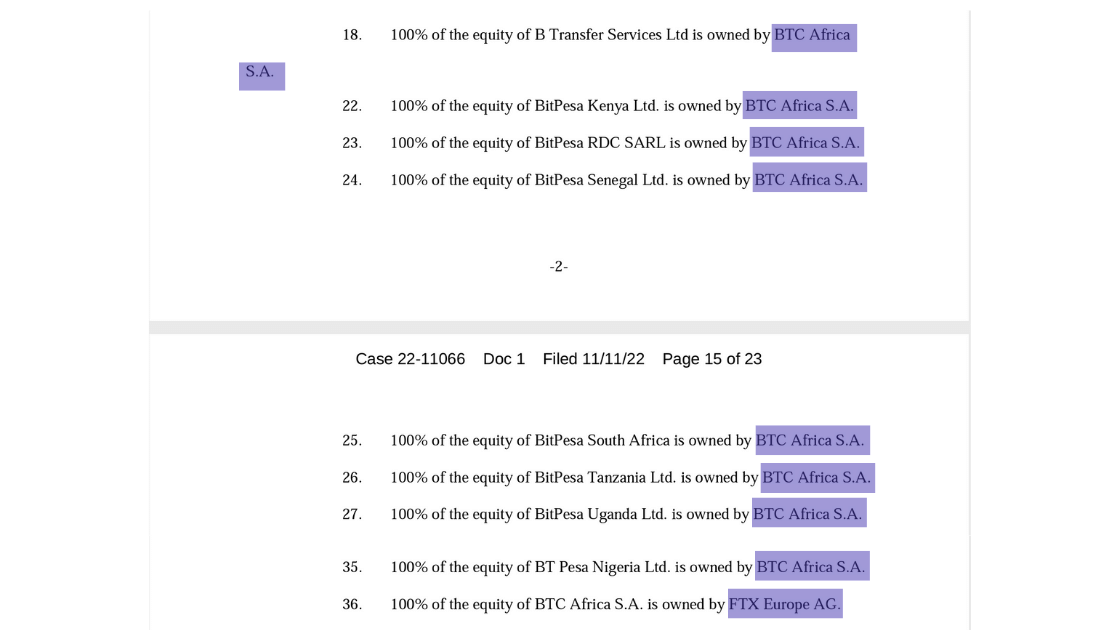 In March, FTX announced a partnership with AZA Finance to develop local fiat ramps for the crypto exchange. The statement had no disclosure of any ownership interest in either company.
FTX ran into trouble following reports of its underhand dealings with sister company Alameda Research.