Business
How bitcoin is keeping Africa's oldest national park from going under
The Virunga National Park, caught amidst ongoing conflicts, has struggled to attract tourists, its main revenue source. Now, bitcoin is provided a lifeline.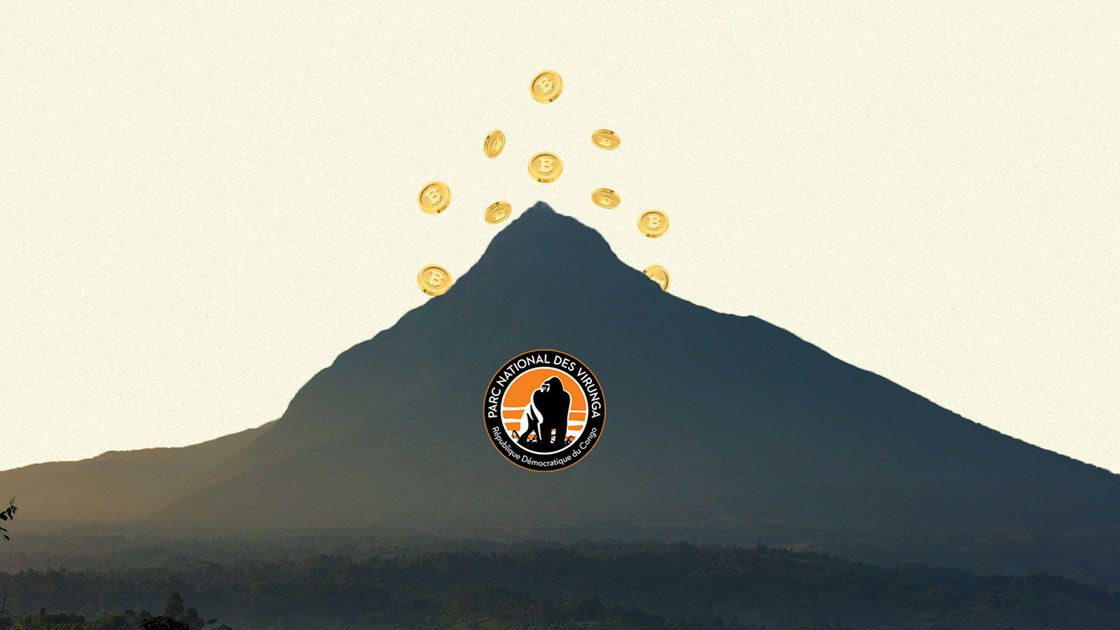 In the face of hardship lies the individual's most creative self. This is true of Africa's oldest national park and its director, who has discovered a most unlikely and unique solution to a problem affecting several thousand Congolese— a Bitcoin mine to raise operational funds.
The details
Since September 2020, the Virunga National Park, located in Eastern Congo, has operated a Bitcoin mine to raise funds to keep it operational.
The park, situated right at the heart of decades-old conflicts between the armed militias and a combination of United Nations Peacekeeping forces and the military, has faced a significant decline in tourism, which is historically its primary source of income.
The outbreak of diseases such as COVID-19 and Ebola worsened the situation, putting it in a position to look for creative alternatives to raise funds. The park's director, Emmanuel de Merode, found a solution through the unlikeliest sources — the world's first known Bitcoin mine powered by excess energy from one of the park's hydroelectric plants, an Adam Popescu exclusive for the MIT Technology Review revealed.
After conceiving the idea of running a bitcoin mine, De Merode met and pitched the idea to Sebastien Gouspillou, CEO of the bitcoin mining company Bigblock Datacenter. Gouspillou was sold on it and helped to purchase second-hand servers.
Consequently, the mine was built as a partnership between Virunga and Gouspillou.
Today, there are ten containers of servers at Virunga, three of which belong to the park. The other seven belong to Gouspillou and his investors, Popescu reported. Each container holds 250 to 500 rigs.
The entire setup is powered directly by four-meter turbines from Virunga Park's hydroelectric plant.
Mining rigs are powerful computers that utilize significant electric power to solve complex mathematical problems crucial to keeping the Bitcoin blockchain active.
Results from solving these problems are called nonces, mathematical values used to generate hashes that verify blocks of transactions in a blockchain.
This process requires a lot of computational power and energy, a combination that is not easily found in most places.
The first miner to find the solution to the math problem is rewarded with bitcoin, which is how new coins get into circulation — hence the term "mining."
Proceeds from the sale of the minted bitcoins from the three park-owned servers go directly to fund park services, while proceeds from the other seven go to Gouspillou and his investors.
Gouspillou also pays the park for electricity used in running his seven containers of rigs.
De Merode estimates that the mine generated $500,000 in revenue in 2021 alone.
In addition, the park also teamed up with the NFT project CyberKongz, which auctioned gorilla NFTs through the auction house, Christie and raised an additional $1.2 million.
Key quotes
"What we are trying to demonstrate is that a green economy implies diversity. Hundreds of different industries can be reliant on sustainable energy over the long term, which makes a healthy society."
On why he chose to do business with the park, Gouspillou commented:
"We used to do mining by buying electricity — it wasn't efficient. The money maybe goes to oligarchs in Kazakhstan. In Virunga, we see it's saving the park."
What experts are saying
The international community has greeted this news with a mixed reactions.
Some experts have dwelled on the enormous amount of electricity needed to run a mine, while others think the innovation is good since it solves many local problems.
Peter Howson, an assistant professor at Northumbria University, argues that Congo's clean energy could be used in ventures that employ more people instead of the 25-30 people employed at the mine.
Alex de Vries, a Ph.D. candidate at the Vrije Universiteit, Amsterdam, says the benefits are "always extremely limited compared to the cost [mostly because] miners overpromise and underdeliver."
Esther Marijnen, a Dutch political ecologist who has worked in Congo since 2013, argues that the mine is at odds with conservation and questions the correlation between a gorilla sanctuary and a bitcoin mine.
However, bitcoin advocates have argued in favor of the development.
Michael Saylor, whose technology firm MicroStrategy owns over 130,000 bitcoin (worth over $23 billion as of this writing), says the model is an ideal way of converting Congo's abundant clean energy into profitable products.
Peter Wall, CEO of Argo Blockchain, which runs hydro-powered mines in Quebec, says Virunga has all it needs to be a profitable mine —power, machines, and capital.
Crucial background
For several years, Congo has suffered from conflict sponsored by relics of past wars, the Islamic State and the Tutsi-led armed militia group, M23.
As a result, the country is now home to nearly as many displaced people as Ukraine.
Virunga National Park has not been left out, with many refugees fleeing the war settling in the park and regularly stripping it of its resources.
An estimated $170 million in Virunga's trees and ivory is lost annually.
With foreign aid, de Merode oversaw the construction of three hydro-power plants that opened in 2013 and a fourth under construction.
This plant's original aim was to provide sustenance for both the park and the surrounding locals who continually pillage the park of its resources.
These plants use Congo's abundant water resources to generate electricity for the park and surrounding areas.