Full Node
Gender plays little role in becoming a successful African female crypto founder: Ruth Iselema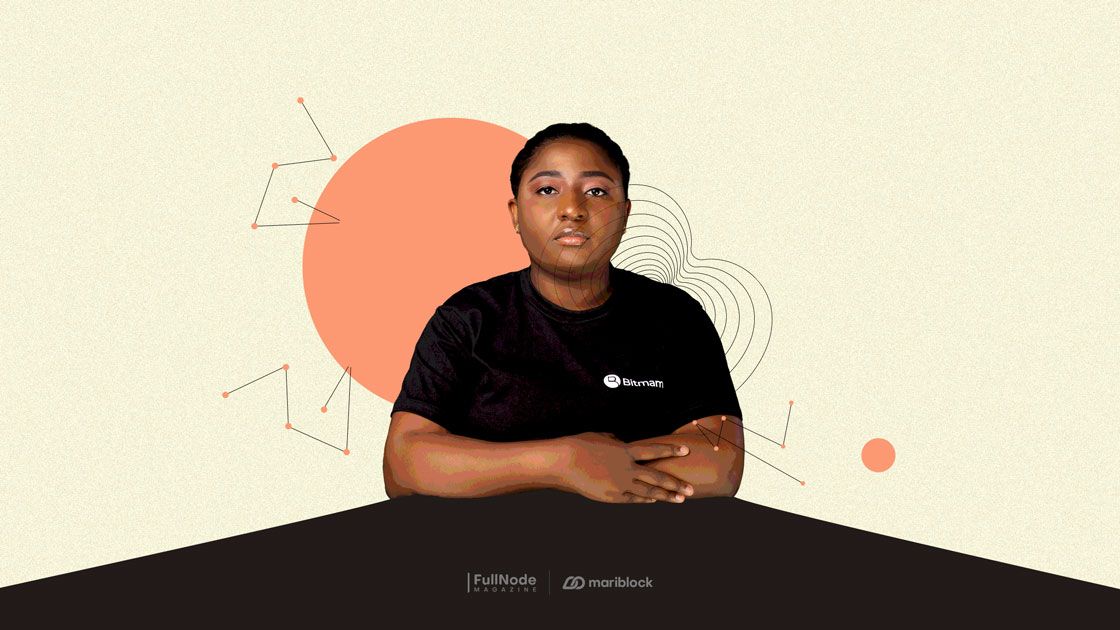 According to the Bitmama CEO, her struggles being a female founder had more to do with knowledge gaps rather than her gender.
Female underrepresentation in organizational leadership is a perennial topic worldwide; it doesn't look like it'll be going away quickly, even more so because it has crept into the relatively new blockchain space.
Here's the telling stat.
Boston Consulting Group's tech build and design unit BCG X partnered with People of Crypto Lab, a diversity-focused Web3 innovation lab, to scrape an online database to analyze gender diversity and inclusion within the space.
The result:
Only 10% of founding teams include both men and women.
Only 3% of the companies analyzed had an all-women founding team
87% has an all-men founding team.
Mariblock spoke with one of the three-percenter to understand a woman's perspective of building a cryptocurrency company in Africa.
---
Circa 2015/2016, Iselema started learning about blockchain and cryptocurrencies in WhatsApp and Telegram groups. Through these interactions, group members began calling her "Bitmama" (a portmanteau made out of the words bitcoin and mama) because she was one of the very few women in the group.
The knowledge she gathered from these groups came in handy a year later when she set out to build a crypto exchange to tackle the rampant scams inherent in how many people traded crypto in Africa. Iselema herself lost about $1,200 to scammers while trying to sell bitcoin in one of the Telegram communities. The exchange would be eponymously called Bitmama.
She moved from her hometown Port Harcourt to Lagos in 2018 to be closer to where many in the cryptocurrency communities she interacted with were based.
Getting the company off the ground was not a smooth ride, though. One of Iselema's first steps in Lagos was to seek out a supportive platform to help get Bitmama started. She and her early team applied for a women-focused pitch competition called Tech in Heels without success. The first real break came when her team got into the first cohort of Greenhouse Capital's three-month accelerator program for early-stage female-led startups. Iselema's company didn't receive funding at the end of the program. Greenhouse Capital did, however, join Bitmama's $2 million pre-seed round announced in September 2022.
While the data tells the story of a business world where male founders receive inordinately more funding than females, Iselema refuses to attribute her early struggles exclusively to any gender-driven narrative.
"Looking back now, I realize I [lacked] access to capital … because I was not aware that certain opportunities existed," she said. "Now, we have more clarity on what we're building, and with the funding we have gotten, we can explore more opportunities and solve more problems."
---
For Iselema, getting more women into blockchain and other businesses is a charity-begins-at-home affair.
"Gender gaps 90% of the time stems from the homes; ladies are trained to be the caretaker, caregivers and groomers, while the guys are trained to be the ones that fend for the family. At the end of the day, we bring down the morale and any sense of growth or confidence the lady would have had. So most times, ladies are not sure of themselves because that's how they've been groomed from home."
Iselema's parents bucked the trend to encourage her interests in finance and technology from a young age. That created a path for her to venture into the technology world.
Iselema's view that upbringing in African homes plays a part in the eventual gender gap, in some way, suggests that the dearth of female entrepreneurs in technical fields like blockchain isn't down to industry biases. Women are perhaps unaware or uninterested.
"I'm very bullish about ladies and when we're employing, I try to make sure that we have some ladies on the team — but not necessarily if you don't want to learn," she said. "If you don't want to learn, I can't help you there."
If the assumption about women being unaware holds, it does mean that more effort needs to be directed toward educational and sensitization programs. These should be followed by opportunities for women to engage.
In all, Iselema believes knowledge is the most important thing for female founders to thrive.
"Women who want to be founders should know their onions; you need to know a bit about everything [— from finance to product to operations]," Iselema said. "You need to be versatile to run a company properly."
---