Policy
Central banks need to adopt blockchain technology, says Nigeria's vice president
He also encouraged Nigerian regulators to develop policies and regulations that foster the development of the crypto and blockchain space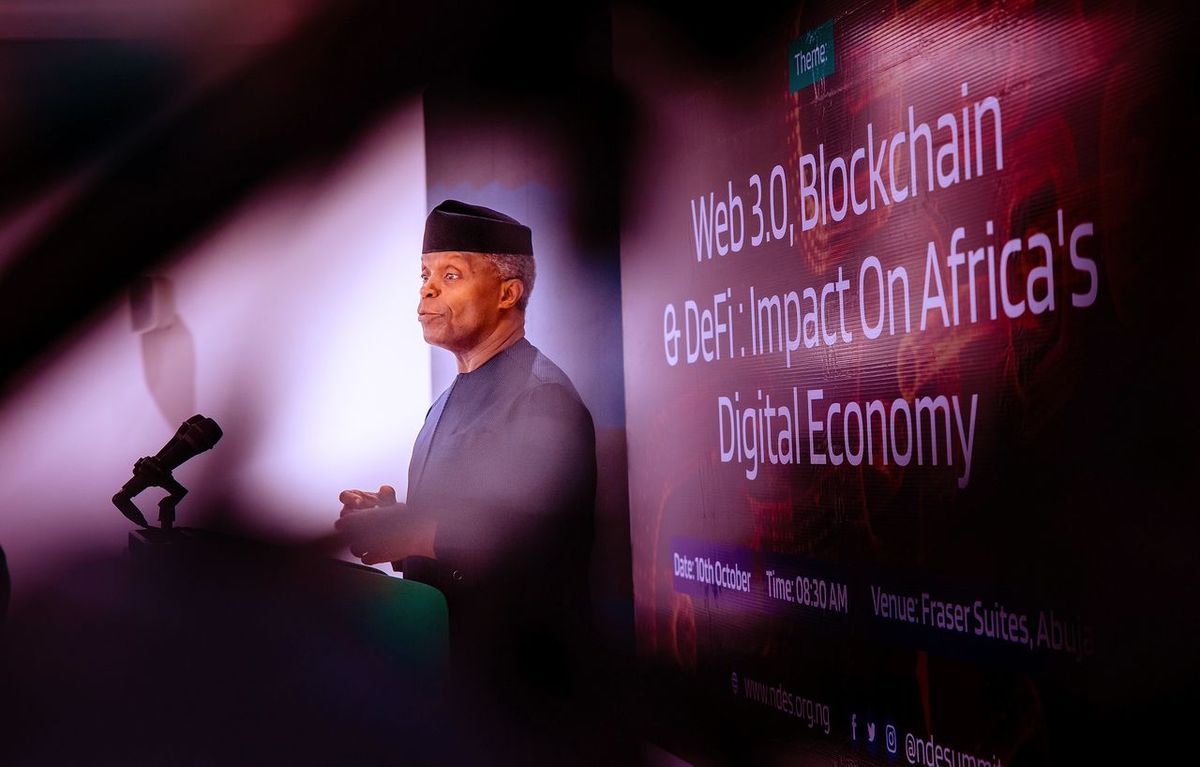 The Vice President of Nigeria, Yemi Osinbajo, urged central banks worldwide to adopt blockchain technology during his keynote address at the 3rd edition of the Nigeria Digital Economy Summit in the country's capital, Abuja, on Oct. 10.
The details
While speaking on the theme "Web 3.0, Blockchain and DeFi: The Impact of Africa's Digital Economy," Osinbajo suggested that blockchain technology might disrupt central banking globally if not absorbed into the system.
"Who knows? We might actually be in the last days of the central banking system as we know it. It is either the central banking systems all over the world will adopt blockchain technology, or they will be taken over by blockchain technology," he said, according to a report by local outlet TheCable.
Key Quote
"We are in the early days of Web 3.0. Its defining components, as we can already see, are blockchain technology, smart contracts, [decentralized finance (DeFi)], tokens — both fungible and non-fungible tokens (NFTs) and the whole range of token economics.

"Unlike [in] Web 2.0, where data is mostly centrally stored. Web 3.0 data will be interconnected in a decentralized way and will also be machine-readable." - Nigeria's Vice President Yemi Osinbajo.
On Nigeria
Speaking specifically about Nigeria, Osinbajo believes the country's central bank needs to develop flexible provisions to support crypto companies — similar to how the central bank introduced new and cheaper licenses that created friendlier environments for fintech companies such as Kuda Microfinance Bank and Flutterwave.
"With the new iteration, with web 3, we have to rethink and create other types of licenses that are much cheaper so that more participants can come into that space," he said, adding that "we must think through and develop appropriate policies and regulations that promote, rather than inhibit, innovation and commerce. We can be world leaders in the Web 3 revolution. The only limit is our vision."
Of note, In 2021, the Central Bank of Nigeria currently restricts financial companies from facilitating cryptocurrency transactions.
Osinbajo added that there must also be an adequate regulatory framework to support trading in crypto markets.
He says, "We must also set clear rules to enable crypto markets and trading in other digital assets.  Identity in the Web 3 age is a key development. It means the user owns his or her own identity and personal data."